Brie Larson stars in the new award-winning Marvel movie, Captain Marvel, co-directed by Anna Boden. Available in 4Dx, the immersive experience gives the action movie an extra punch. Based on the infamous Stan Lee comics, "Carol Danvers" (Brie Larson) saves the world from terror using the only power needed: girl power. (SYJ: 5/5)
Review written by FF2 Media Intern Sophia Y. Jin
In the 4Dx version of the film, water is sprayed and wind is blown. On screen, the film opens with with Carol having trouble with sleep as she has a recurring nightmare. In order to blow off some steam, she wakes her trainer, "Yon-Rogg" (Jude Law), to practise fighting without the special super power (shooting photon blasts) she has. This is apparently important, according to her instructor, to "control her emotions". Then she is taken to have a meeting with the 'Supreme Intelligence' where she is assigned to go on a mission with a team and her instructor. Landing on a planet, they plan to attack a race of shapeshifting aliens called the Skrulls, a race with which they have bad blood.
After an accident, Carol ends up landing on "C-53," more commonly known as Earth. Through her journey on Earth, she meets "Nick Fury" (Samuel L. Jackson), and finds the Skrulls that have found their way to C-53 as well. In a quest to find a woman, "Dr. Wendy Lawson" (Annette Bening), and her scientific knowledge, Carol unravels more of her forgotten past on Earth.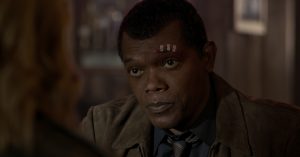 Sitting in the 4Dx theatre, the film definitely felt more immersive. This version of the film, where the seats moved, and the atmosphere in the movie was replicated through winds, water, and some sort of pushing on your back in certain scenes, would be more suited to the younger audiences. It was slightly daunting to begin with, what with the seats being separate and elevated, as well as there being advertisements in 4Dx, showing what the movie would be like. I can only say I'm thankful they had an option to turn off the water spraying, which made the movie more enjoyable.
The movie probably wouldn't necessarily have the same effect on the audience if it were viewed in different dimensions. 3D would have the images still jumping out at you, but without the atmospheric effects. A regular 2D version would have still been interesting–the movie and storyline itself wasn't boring, so the use of the 4Dx wasn't to compensate for any bad script writing or acting. I think the main difference between the different dimensional viewings is that 4Dx made it a little more exhilarating. The main gist of the movie was still the same. This is an action film, accentuating the power of a woman rather than a man.
Anna Boden's new Marvel film seems to be en route to success. Entangling this story in with the rest of the franchise, Brie Larson's character is introduced as the beginning of the "Avengers." No doubt, all the acting is excellent, and somewhat comedic. The idea of this immersive 4Dx experience emphasises that the act of going to the theatre is still important, and not to just stream things online on one's tablet or iPhone. Captain Marvel just makes it more apparent to cinema-goers that it isn't possible to experience films the same way at home than in theatres. Another thing that really stood out positively, was that the cast was diverse. It didn't feel like it was diverse for the purpose of being diverse, and the roles didn't seem to have races assigned to them, meaning anyone could have been cast to play those roles.
Throughout the movie, Brie Larson's character Carol was seen to be questioned in her abilities, being manipulated left, right, and center. However, this film was really empowering, because despite people attempting to shoot her down, she proved herself more powerful than they expected. She fights them according to her abilities and determination; she's her own woman. It definitely made me feel that a woman does not need a man to save her. In fact, it just showed how you should never piss a woman off, because they are strong and capable of anything.
© Sophia Y. Jin (3/12/19) FF2 Media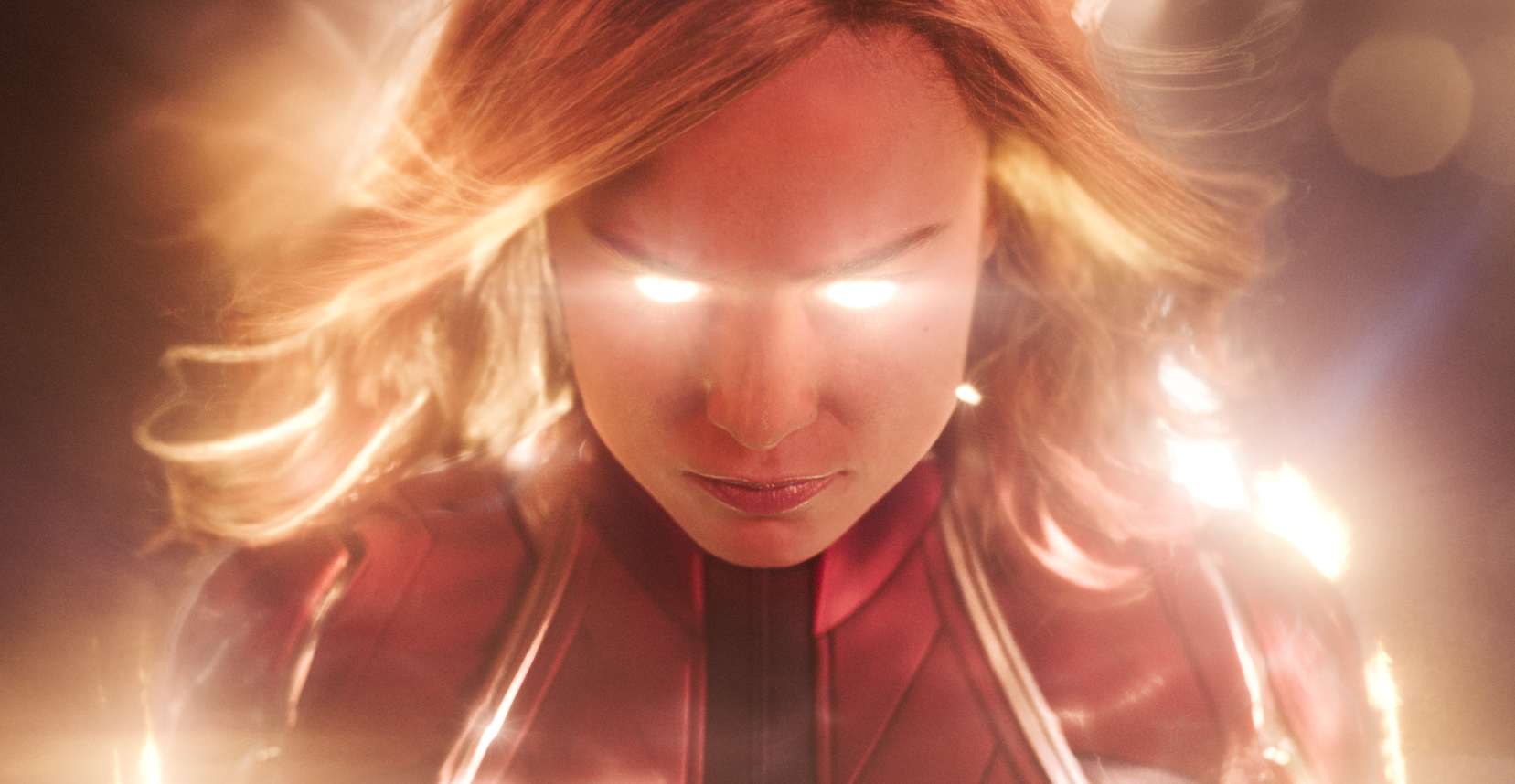 Does Captain Marvel pass the Bechdel-Wallace Test?
Yes! "Carol Danvers" (Brie Larson) talks to her best friend "Maria Rambeau" (Lashana Lynch) about how to find "Dr Wendy Lawson" (Annette Bening).
Photo credits: Marvel Studios
Top photo: "Vers" (Brie Larson), "Yon-Rogg" (Jude Law), "Korath" (Djimon Hounsou), "Bron-Char" (Rune Temte), "Ronan" (Lee Pace), "Minn-Erva" (Gemma Chan), and "Att-Lass" (Algenis Perez Soto)
Middle photo: "Nick Fury" (Samuel L. Jackson)
Bottom photo: "Carol Danvers" (Brie Larson)
Commentary by Review Coach Giorgi Plys-Garzotto
While I spent most of the movie consumed with paranoia that the moving seats could be breaking my laptop in my backpack, I mostly enjoyed Captain Marvel. Where the 4Dx elements were concerned, I honestly wasn't a fan–especially when I found out how much Jan paid for our tickets! The film itself, though, was pretty enjoyable, even to this burned-out Marvel discontent who got bored of these things around Thor: Ragnarok over a year ago. In many ways, Captain Marvel feels like a rejuvenation of a tired brand–maybe it's the nods to The Avengers and the origin story of the first film's plot, or maybe it's just the fact that a woman actually gets to be empowered in this movie instead of Scarlett Johansson's tired impersonation of an empowered woman.
I'm really cantankerous about Black Widow, so let me elaborate: Black Widow is supposed to be this """empowered woman,""" right?? Let's unpack this (just in case you live under a rock and have never read a thinkpiece about it that says exactly what I'm about to say). Joss Whedon's weird empowered-woman tropes tend to go in one of two ways: one, the "Buffy," who punches the patriarchy in the face, and perfectly meets patriarchal beauty standards while doing it, and second, the "Inara" figure, who uses sex as a weapon in a way that just so happens to be exactly what pleases a male audience, except it's still feminist because she (a female character written by a man and therefore not representative of what actual women choose) chooses it! See how that works??
Black Widow can punch people like Buffy, but her whole "sexy spy" routine is mostly Inara. Rather than shape-shifting into a green rage monster, super strength, or even a battle suit she built herself, Black Widow's superpower is just the Joss Whedon standbys of "punching people" and "being sexy," which includes the sub-powers "having perfect make-up after three hours of action sequences," and "bending her body in movie posters so that you can see her boobs and ass at the same time, a position that would break most women's spines." I guess in a way she's an unholy combination of Buffy and Inara,
This is all to say that it's pretty refreshing to see Brie Larson being (basically) a regular person in this movie. She has a funny and sweet relationship with her best friend on Earth, she's good with kids, and not every line she says is meant to be level-10 dramatic (or worse, that often-nauseating brand of quippiness that Marvel movies tend to feature in lethal doses).This doesn't cancel out the other reason I dislike Marvel movies–the fact that movies that market feminism to the masses are just a vehicle for corporate interests/ a way for capitalists to profit on social change–but as you can see, I like Carol Danvers a lot more than Natasha Romanova.