Elena Ferrante is one of Italy's internationally most popular authors, yet – in using a pseudonym and insisting that her works should speak for themselves – remains an intriguing mystery to mass media and readers alike. In this documentary of classic interviewee format, director Giacomo Durzi and screenwriter Laura Buffoni have literary personae talk about the thematic and literary impact of Ferrante's work. The filmmakers' interest in Ferrante and her particular style is evident in the documentary's fragmentary narration, but I miss a further use of the visual medium. In addition, with the documentary's large focus on the alluring identity behind the success, I cannot help but to think that Ferrante Fever is precisely the sort of media coverage that Ferrante herself would have wished to avoid. (MJJ: 3.5/5)
Review by FF2 Associate Malin J. Jornvi
Ferrante Fever opens with shots from the streets of New York City reworked with a visual effect that makes the images resemble drawn sketches. As the rolling pictures of avenues succeed each other, a voiceover comes on featuring no one else than Hilary Clinton herself admiring a series of literature as "hypnotic" and engulfing. She talks about Elena Ferrante, the Italian best-seller of still unknown identity. It might seem odd to begin and to stage an Italian documentary largely in the US, but as more voices from the literature world join in, it becomes evident that this documentary portrays, in multiple ways, an American success story.
Durzi and Buffoni's documentary takes the shape of an interview format where literary personae, such as Ferrante's English language translator Ann Goldstein, are invited to speak to their experience of her work. Another speaker is Pulitzer Prize winner Elizabeth Strout, who points out the paramount role of place in literature, and applauds Ferrante's use of Naples, her alleged hometown. The documentary's sense of place, originating in New York before journeying back to Italy, is also no coincidence as the Ferrante hype had to originate in independent bookstores in NYC before gaining popularity in other cities and countries, including Ferrante's own. But it is more than the use of place that has made Ferrante's fame – we also have frantumaglia. The documentary has a voice actor read excerpts from the author's self-published collection of letters and written interviews to explain the renowned concept:
In the beginning there may be flashes, collisions, words that emerge to form vaguely defined images. My mother left me a word in her dialect that she used when she felt racked by contradictory sensations that were tearing her apart. She said that inside her she had a frantumaglia, a jumble of fragments. The frantumaglia is the storehouse of time without the orderliness of a history, a story. The frantumaglia is an effect of the sense of loss. It is to perceive with excruciating anguish the heterogeneous crowd from which we, living, raise our voice, and the heterogeneous crowd into which it is fated to vanish.
Frantumaglia was translated to "shattering" in English, and in the documentary Goldstein comments on the difficulty of doing Ferrante justice: "Frantumare is shattering or fragmenting, but frantumaglia is both a… the difficulty of a word like that is that it is both a process and the result of a process. And how you express that… is difficult." Elena Ferrante also used another concept, smargunatura, which Goldstein translated to "dissolving boundaries." Ferrante scholar Giulia Zagrebelsky weighs in: "'Dissolving' and 'shattering' are linked concepts. I would define 'shattering' as a pertaining to the self. It's destructive. 'Dissolving boundaries' pertains to the self, but also to the world."
Frantumaglia and smargunatura are given emphasis in Ferrante Fever and it seems clear that their literary values are in part what drew Durzi and Buffoni to the story. But, as intriguing as these aspects of Ferrante's writings are, they are, after all, part of her work and found within her novels. Halfway into the documentary I therefore start to wonder what this particular production wants to achieve, other than spreading – or being a part of – the Ferrante hype? The doubt is augmented by some details that come off as quite distracting: the large light reflections in the glasses of publisher Lisa Lucas, the visible stain on the white couch next to Strout, and the very prominent, yet completely arbitrary, guitar behind writer Jonathan Franzen. Though minor, these elements steal focus from Ferrante Fever's overall case and shadow what could be highlighted by the visual medium compared to Ferrante's own.
This brings me to the final point: Elena Ferrante has explicitly asked for her works to be read for what they are, and expressed that she does not wish to be part of any media circus. That Ferrante Fever then comes off as a portrayal of an individual success, told largely through the perspective of Americans, and situated in NYC, is troublesome. And in addition to the Americanization, does this documentary not bring the very media attention Ferrante all the while wanted to avoid?
Though giving in to the urge to characterize the author, and though not utilizing the visual medium to extend the story beyond the page, Ferrante Fever does a good job with showcasing the impact of Elena Ferrante's work. So although I had wished for less focus on the identity search and more play on the literary themes in an image based context, I am thankful to Ferrante Fever for making me aware of the very exciting concepts of frantumaglia and smargunatura. I also have to add that I went straight to the library to find L'amica geniale.
© Malin J. Jornvi (3/28/19) FF2 Media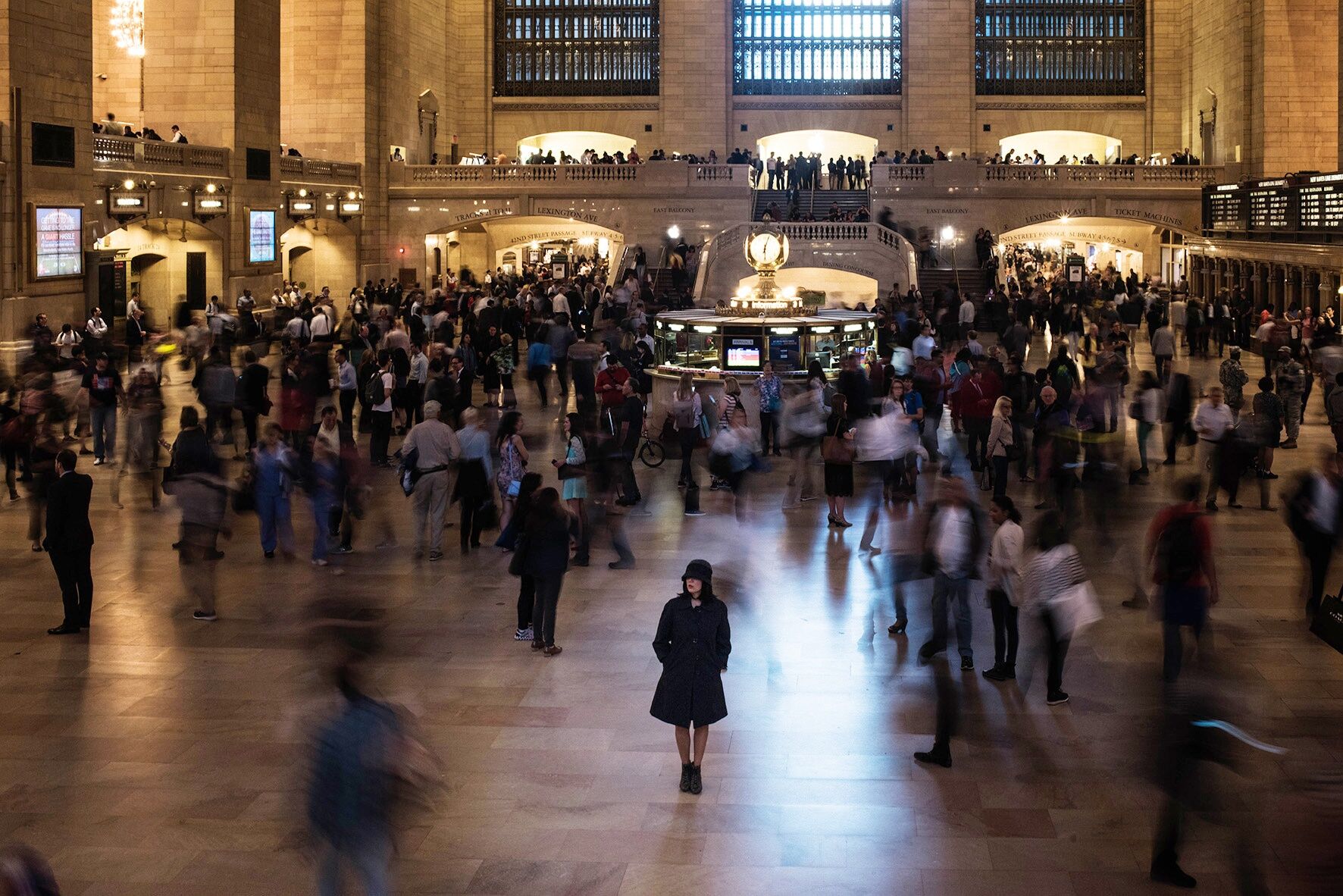 Top Photo: Footage with "sketchy" visual effects.
Middle Photo: Footage from Naples.
Bottom Photo: Footage from New York City's Grand Central.
Photo Credits: Greenwich Entertainment
Q: Does Ferrante Fever pass the Bechdel-Wallace Test?
As a documentary with interviewees speaking freely there is no direct dialogue and Ferrante Fever thus never has two women speaking to each other. However, Elena Ferrante's novels focus mainly on female characters, and especially the Neapolitan series features a friendship between two females over the course of half a century – a time period in which it seems reasonable to assume that the discussion must have digressed from their romantic relations.