Written and directed by Michelle Schumacher, I'm Not Here is a film about an old man reflecting on his past, working through trauma and learning to find peace with his life's biggest regret through vivid flashbacks of an earlier time. Though it has issues with the substance of its narrative, I'm Not Here demonstrates real talent in all elements of the film. (JRL: 3/5)
I'm Not Here opens as Steve (J.K. Simmons), an aging man living on his own, mournfully awakens and begins his day. As he moves through his dark and unkempt house, sifting through empty vodka bottles to find another drink, it becomes clear early on that he's deeply troubled. We start to learn why when he receives a message from his mother telling him that Karen, his ex-wife, has just died. As he moves aimlessly through his house, Steve gets drunker and drunker and sicker and sicker until he's woefully eyeing the gun on his side table.
Throughout this experience, Steve has fragmented but vivid flashbacks of his past. The first are of his childhood, in which his father (Max Greenfield), though he voices his desire to be a good parent, has a drinking problem that ends his marriage and shakes up Steve's whole life. Second are flashbacks of his young adulthood, in which he meets the beautiful Karen, marries her, and has an adorably giggly son named Trevor (Jeremy Maguire). This time, though, it is his own alcoholism that threatens the family. The bright and vintage-looking flashbacks, juxtaposed with Steve's dark and disheveled present, emphasize the impact that Steve's traumas have had on his psyche and the damage that alcoholism has done to himself and his family. As the film progresses, Steve grapples with his traumas, his addiction, and his regrets, all of which he must resolve either through finding inner peace or through pulling the trigger on the gun he finds himself pointing at his head.
Jill Soloway, the creator of the TV series Transparent, once gave a talk on the "female gaze" that I think about often. In the talk, she discusses a directing style in which the camera represents the female gaze, rather than the male gaze that is typical of mainstream films. To do this, she attempts to create a feeling with her shots, rather than an image, to emulate the female experience. I'm Not Here's director Michelle Schumacher demonstrates this concept wonderfully. Especially in the scenes with present-day Steve who is grief-stricken, ill, and progressively more and more drunk, I could feel him unraveling as if I was experiencing it myself. Schumacher's direction, in a truly masterful way, uses the camera to show the audience what Steve feels, rather than just what he sees.
I also have to acknowledge the incredible performance that J. K. Simmons delivers. Because his character is alone in his house, and therefore makes no effort to disguise his despair, Simmons is incredibly vulnerable, emotional and (often, literally) naked in this film. He took on the challenge beautifully. The two younger Steves, Sebastian Stan and Iain Armitage, also gave very compelling performances. They were both able to capture the pain we see in present-day Steve and add a youthful hopefulness that was very captivating.
To me, the issue with I'm Not Here is that it has many promising aspects, but it doesn't quite flesh them out. For example, there are moments in which present and past versions of Steve make direct eye contact and then break away in bewilderment. I was fascinated by the concept, but these moments were few and far between and never quite asserted their meaning in the film. I'm Not Here also delivers a really compelling narrative about alcoholism, its cycle from parent to child, and its life-ruining effects, but because the families were depicted only through short flashbacks, I wasn't able to get to know them and come to love them which meant that I couldn't feel the devastation as deeply when alcohol tore them apart. The film was rather short, so it definitely had some extra time to develop these things more without being any less captivating.
Despite some issues with the narrative, there is real skill at work in this film. The directing, cinematography, lighting and — and I cannot emphasize this enough—J.K. Simmons, are all excellent and, in my opinion, definitely worth watching.
© Julia Lasker (3/28/19) FF2 Media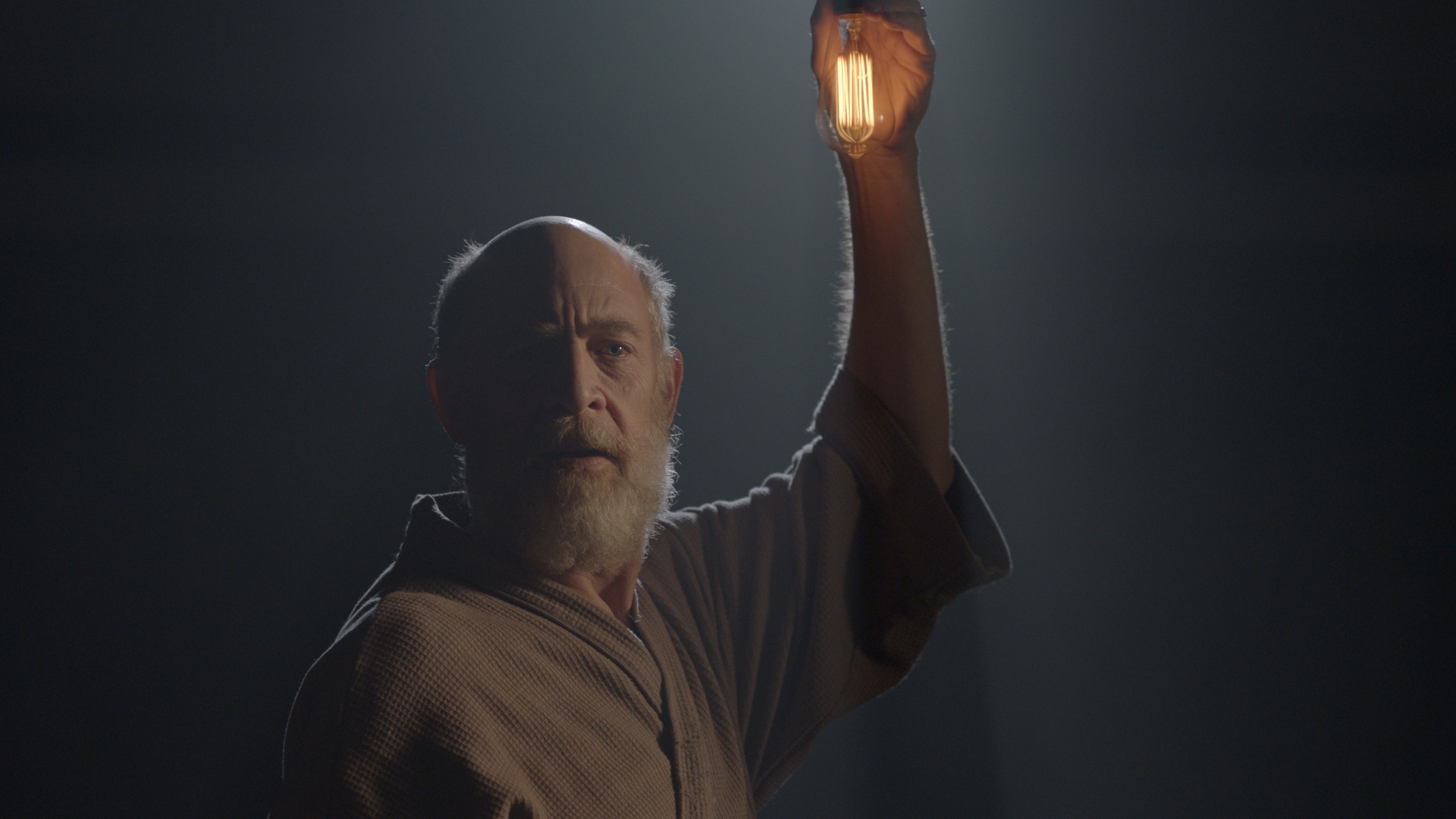 Photos courtesy of Gravitas Ventures
Featured photo: Maika Monroe and Sebastian Stan play younger versions of Karen and Steve in I'm Not Here.
Bottom photo: JK Simmons stars as present-day Steve in I'm Not Here. Read our full interview with director (and Simmons' real-life wife) Michelle Schumacher here.
Q: Does I'm Not Here pass the Bechdel-Wallace Test?
A: No, but this is only because the film is from a man's perspective and all of his flashbacks are his own experiences.