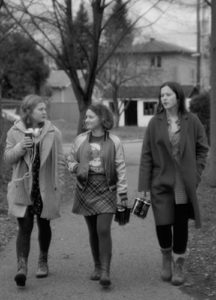 From French-Canadian filmmakers Sophie Lorain and Catherine Léger, Slut in a Good Way (or the original title in French, which translates to "Charlotte Has Some Fun") is a comedy about three friends who start working in a toy shop–one where there are so many cute boys. The film celebrates teen girlhood, sexual freedom, and the special humor shared among best friends. (AEL: 4/5)
Review by FF2 Contributing Editor Amelie Lasker
The film opens on three teenage girls, romantic Charlotte (Marguerite Bouchard), shy Aube (Rose Adam), and sardonic Mégane (Romane Denis) as they romp around their small Canadian town. They try on lingerie, they pee in the park. They walk into a toy shop, and discover that its staff is composed heavily of cute boys around their age. This is the place to be. They fill out applications immediately.
The shop is teenage heaven: a big group of young people, pushed together during the store's busy holiday time, taking lunch breaks together and having parties after work. Some of the girls who have been working there a while initiate our three protagonists with a playful explanation. They don't really have boyfriends, they observe. There are too many to pick just one!
Charlotte, recently dumped by her long-term boyfriend, is looking to get over her heartbreak by enjoying her newfound singlehood. She tries flirting and discovers she's great at it. She hooks up with Francis (Anthony Therrien) in his car, and her friends are amused and maybe a little envious. She starts sleeping with all the boys on the shop staff one by one. All, that is, except charming Guillaume (Alex Godbout), who gallantly announces he will leave her alone until the end of her heartbreak period.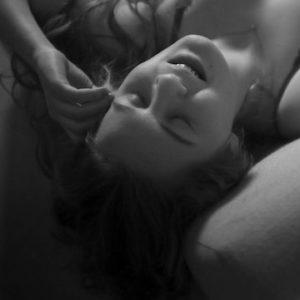 Charlotte soon discovers all this sexual freedom is not without consequence. The boys talk to each other. The other girls at the shop start to get annoyed when they discover she's been sleeping with all their exes. Her best friend Aube is hurt because she had a crush on one of those boys. Instead of shaming each other, the girls decide to join together and stop all this confusion. In a Lysistrata-like scheme, they all vow to abstain from sex to make the boys appreciate and respect what they're missing.
Slut in a Good Way has brilliant dialogue. My favorite moments came when the girls just hung out together, recasting their experiences in their shared language. The flirtations are fumbling and strange and sweet. Mégane, played by Romane Denis, is particularly charming with her clever sarcasm and social commentary.
The film's treatment of sexual freedom and the Lysistrata element don't quite carry out the revolutionary message suggested by its American title, because teen romance tropes are still strong. At the same time, it doesn't need to be revolutionary, because sex positivity itself is nothing new. Neither is the use of sex positivity in romantic comedies. What is particular to this film is the sweetness of its humor and the deftness with which these romantic comedy tropes are told.
I loved this film most for its willingness to sit in teen girl sexuality: in their insecurities, their betrayals, their swooning over boys. I'm looking forward to more from these filmmakers.
© Amelie E. Lasker (3/30/19) FF2 Media
Top Photo: Marguerite Bouchard as Charlotte, Romane Denis as Mégane, and Rose Adam as Aube.
Middle Photo: Marguerite Bouchard as Charlotte.
Bottom Photo: Romane Denis as Mégane and Rose Adam as Aube.
Photo Credits: Comedy Dynamics
Q: Does Slut in a Good Way pass the Bechdel-Wallace Test?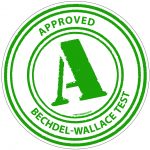 Absolutely!
The three best friends at the center of the film are all girls. Most of their conversations center on boy adventures, but these ideas also help them figure out their own identities and growing up.