A film by feminist filmmaker Michal Aviad, Working Woman chronicles the painful story of a woman who returns to the workplace to support her family and their new business, and is faced with increased sexual harassment from her employer, in a job she comes to depend on. (FEA: 5/5)
"Orna" (Liron Ben Shlush) finds her family in growing financial tension, as their new restaurant business struggles to take off and become profitable. Her husband devotes his time to the restaurant, and does not have another job, tapping into their savings and relying on loans in order to survive. Faced with this difficult situation, Orna starts searching for a job. "Benny" (Menashe Noy), a successful real estate developer, immediately takes a liking for her, and decides to bring her on board as his personal assistant. He promises her a competitive base salary and opportunity for growth. Impressed by his offer, Orna accepts it. With time, Benny's true intentions begin to show, as he repeatedly makes sexual advances at Orna when they are alone. Her rapid rise and financial success, made possible through Benny, make Orna dependent on the job, and tie her to a hostile work environment that she cannot leave. Her career, her personal well-being, and her relationship with her husband are now in peril.
Director and co-writer Michal Aviad brilliantly depicts the advancement of Benny's predatory behavior in a realistic manner that can be observed in the workplace. In Orna's case, Benny exploited her financial situation, and made her dependent on the job by slowly increasing her pay and benefits. Simultaneously, he exploited her position as his second-in-command, and took advantage of their extensive time alone together. He starts off by attempting to kiss Orna, and immediately apologizes afterwards, making the viewer almost sympathetic and hopeful that this behavior will not repeat itself. Slowly, however, his failed attempts and his need to dominate a married and uninterested Orna manifest in more and more violent and unapologetic behaviors. This approach is often seen in cases of workplace harassment, as aggressors slowly cross boundaries, first apologetically, and later mercilessly. Hopeful that this behavior will cease, the victims, often women, may stick around. In this way, Michal Aviad definitely shows her feminist consciousness and her intimate knowledge of sexual harassment in the workplace.
The casting choice in Working Woman, and by extension the acting, must be praised. Both Liron Ben Slush and Menashe Noy do an impeccable job of portraying the toxic relationship that exists between Benny and Orna. Liron Ben Slush's raw facial expressions show the range of emotions a woman goes through when faced with harassment. She is skilled at depicting her constant inner battle between staying with Benny for the money and for her family, and feeling disgusted by his actions. Menashe Noy, on the other hand, plays the role of the harasser very realistically, showing Benny's need for control over Orna. With time, the viewer may forget that they are watching a fiction, as the film so closely mirrors real life.
Overall, Working Woman is an important film that has come out at a vital time—in the midst of the #MeToo movement, and during active opposition and protest against workplace violence and sexual assault. It was surprising for me to learn that Michal Aviad started making this film before such movements, which shows how this has always been a problem waiting to be addressed and to be brought to the public eye.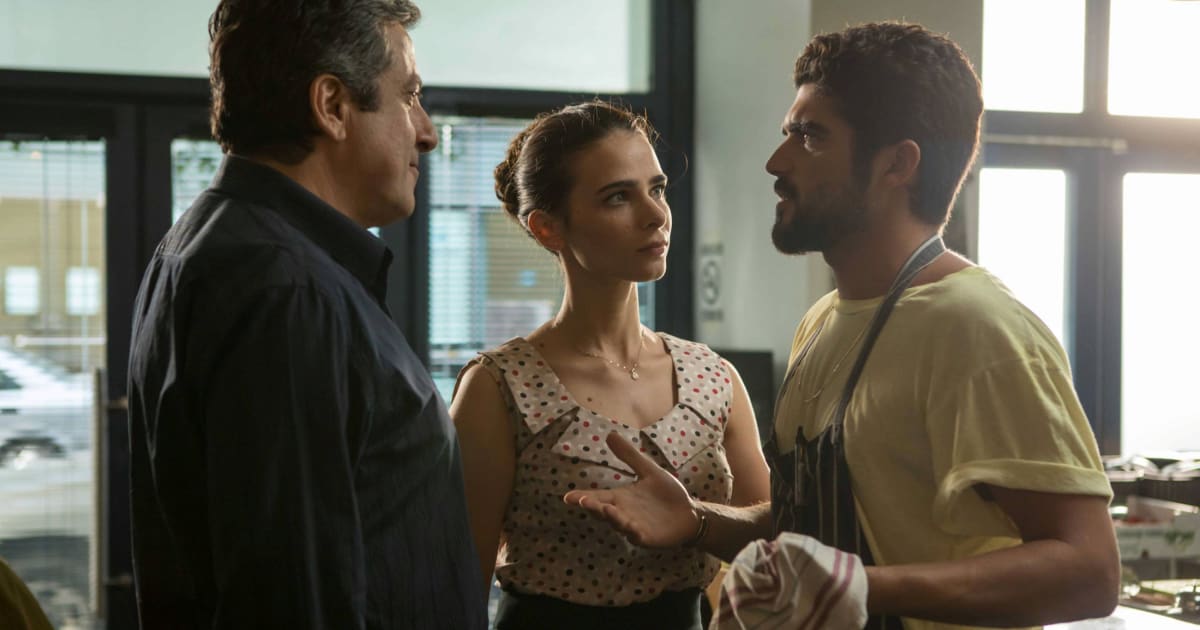 Top Photo: Olga, Benny, and a client.
Middle Photo: Olga and Benny in one of their moments alone.
Bottom Photo: Olga and her husband talking to Benny at their restaurant.
Photo Credits: Zeitgeist Films (2019) (USA)
Q: Does Working Woman pass the Bechdel Wallace test?
Yes, there are scenes between Orna and her mother.