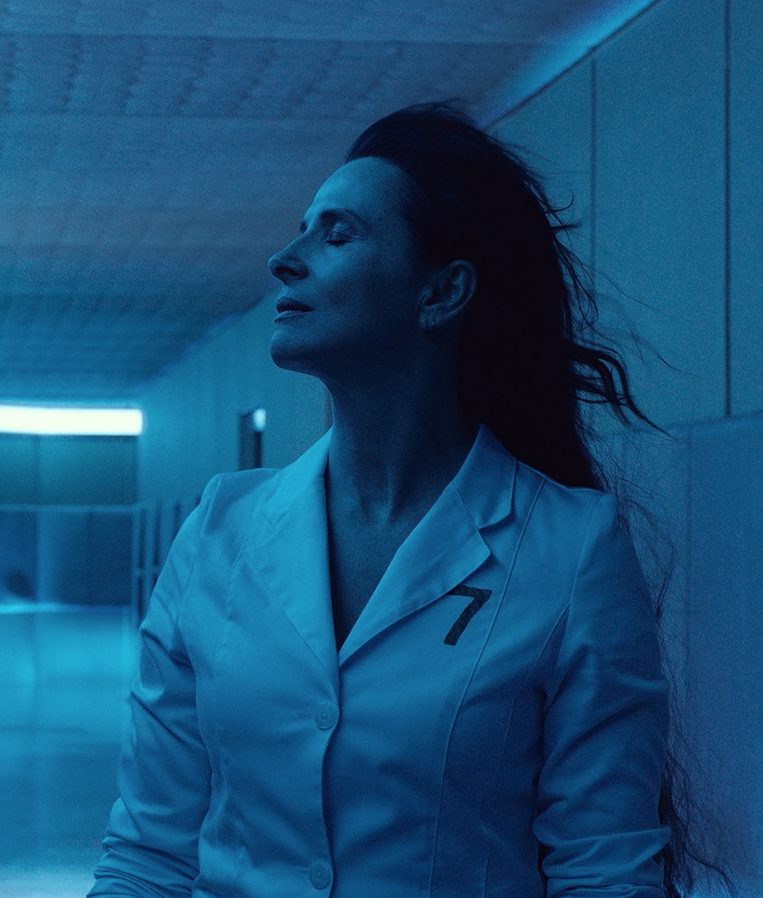 Written and directed by Claire Denis, High Life tackles a space journey gone horribly wrong and follows a crew of death row criminals on their quest to research black holes. High Life is Denis' next expert foray into exploring sexuality, human interaction, and the meaning of living—this time in space. (DLH: 4.5/5)
Review by FF2 Intern Dayna Hagewood
It is immediately apparent that the stakes are intense in High Life. In the first few scenes, Denis presents a desolate space ship with only the screaming sounds of a baby (played by Scarlett Lindsey) and eerie lighting and camera movement. It isn't even apparent at first that the film takes place on a spaceship considering we see a baby watching Monte on a screen (stunningly played by Robert Pattinson) floating in space and fixing a panel on a ship. It is only after that we realize that the baby is watching Monte from the interior of the ship and that the two of them are the only survivors.
As if this isn't enough of a difficult situation, the ship is portrayed continuously as mysterious, empty, and broken. The baby is dressed in stitched-together clothing, Monte is running out of a non-specified container of pills, and the lights randomly turn off and turn back on. Each sequence is steeped in rich reds and blues which further intensifies the setup.
The first section of High Life serves mostly to establish Monte's character, which is a feat considering his only companion is a toddler. This is achieved mostly through excellently-written and executed dialogue. Because of this, we see how he struggles through his days. He is a complicated character that sleeps calmly next to his baby in one scene and contemplates killing her and himself in another. Denis expertly establishes a situation that forces questions that are not answered until much later in the film. When Monte walks into a frigid room full of body bags, we are forced to wonder: what happened here? How did Monte survive? Will he continue to live?
And yet, even when we finally get flashbacks to life on the ship when there were living people present, not much is cleared up right away. We discover bit by bit that the crew is dysfunctional, highly sexual, and violent. Not only are they exploring black holes and drifting rather aimlessly through space, but they are also the victims of sexual experimentation by "Dr. Dibs" (played wonderfully by Juliette Binoche). When one question is answered, another situation erupts and undermines all previous understanding.
It is in this middle section of High Life that Denis achieves what she does best; exploring human sexuality and relations in a way that is simultaneously off-putting and intriguing. Her exploration of half-formed relationships between characters, violent bursts of insanity, and particularly erotic (and often disturbing) portrayals of human bodies and sex drives the film in a largely unexplored direction and fills in the gaps of what needs to be told about the characters' situations. We learn that Dr. Dibs is attempting to force the women into healthy pregnancies in a radioactive space environment. We also slowly learn of each character's demise and backstory in the cell of the spaceship. Denis gradually demonstrates what we already know from the opening sequence: no one remains on the ship but Monte and his daughter Willow.
If there is one single weakness in High Life, it is that we only learn that the spaceship inhabitants are death row criminals from a single shot of an interaction on Earth. In a randomly placed interview with a professor on a train, a woman finds out that there are criminals being sent on suicide missions to further science. While this was certainly a jarring scene considering there are no other outside interactions in the film (aside from brief flashbacks from Monte's life), it did fit within the structure of the film considering the non-linearity of the other plot points.
Claire Denis' High Life is not necessarily a film for the plot-driven. It is confusing at points, absolutely perplexing at others, and often perfectly strange. It is a film that analyzes taboos, pushes humanity to its fringes, and poses loads of heavy questions about ethics, just like her 2001 film Trouble Every Day (which I also highly recommend). Its wandering exploration is one that requires the viewer to suspend their disbelief rather than have faith in a consistent storyline. Its explosiveness and freshness are unparalleled, and in my opinion, its strength as a piece of art alone is unquestionable. It is a film that you must come mentally prepared for, but is ultimately incredibly rewarding in acting, cinematography, speculation, and design.
© Dayna Hagewood (4/11/2019) FF2 Media
Featured Photo: Monte (Robert Pattinson) and his daughter Willow (Scarlett Lindsey) in the garden on the ship.
Top Photo: "Dr. Dibs" steeped in blue (Juliette Binoche).
Bottom Photo: Monte in his space suit on the ship.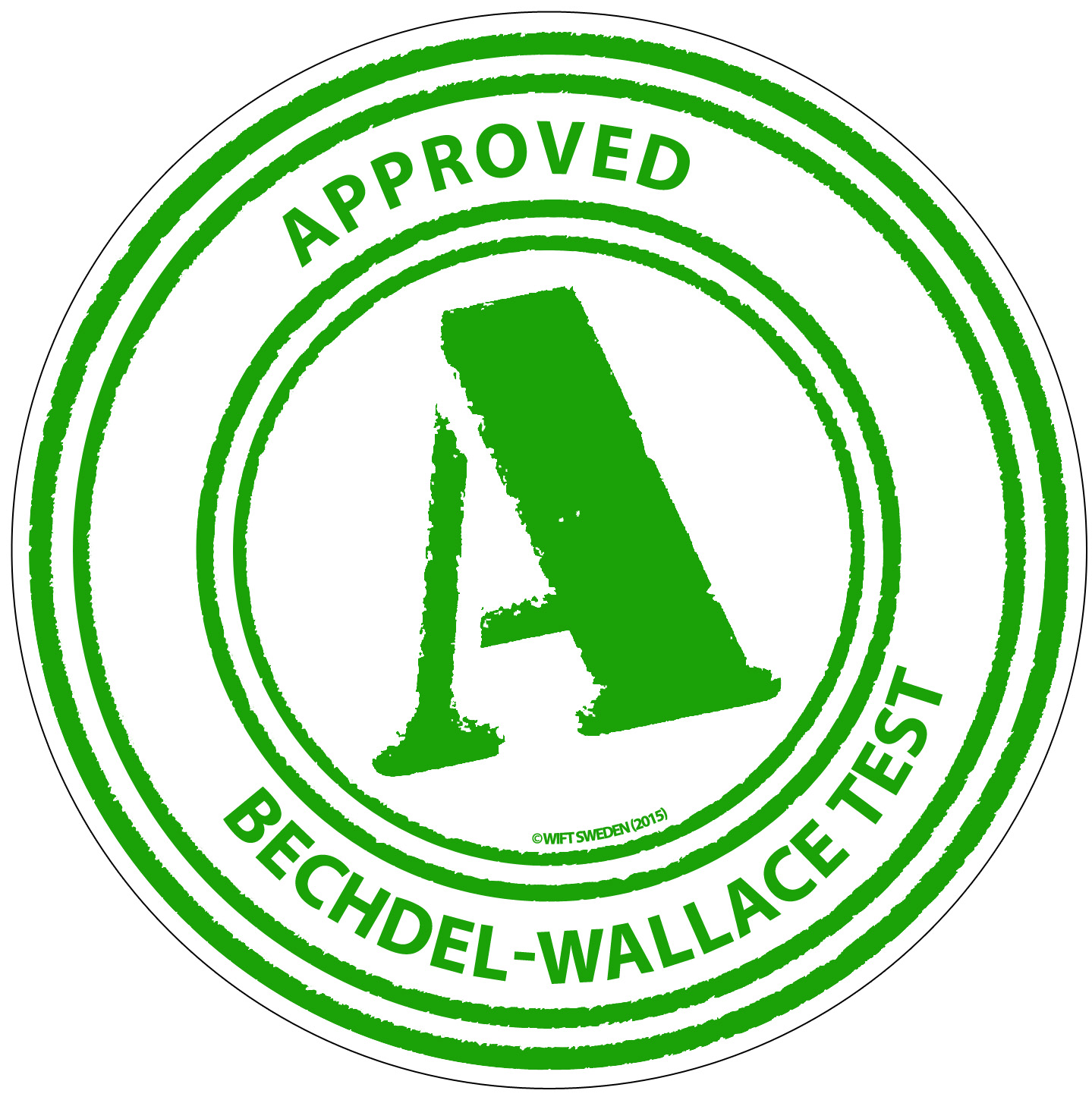 Photo Credits: Wild Bunch (EPK, 2019)
Does High Life pass the Bechdel-Wallace test?
Yes, there are scenes where the women talk about their abilities (or lack thereof) to become pregnant given the experiments they are put through by Dr. Dibs.
Comments from Coach Katusha:
Claire Denis' High Life was a very emotionally confusing film for me to watch. I could not figure out how I felt about the piece until quite a while after. Denis' boldness with her sexual scenes caught me completely off guard. Right after the viewing, all I could remember was how my relatively conservative British self felt incredibly uncomfortable. It blinded me from the rest of the film until I was reminded about all the other aspects.
High Life is written in a very mentally provocative way. So little is revealed in the beginning, and we are left to piece together the story from snippets of the past and the present. Not only do we question the direction of the story, but also the humanity and ethics behind the characters' motives. The interview with a professor on earth felt out of place; I wish there was a better way to explain the situation with the prisoners rather than using this insert.
Robert Pattinson played beautifully, and some of our fellow critics described Juliette Binoche's performance as being one of her best! The cinematography by Yorick Le Saux and Tomasz Naumiuk is mesmerizing. The acting, cinematography, and production design kept my interest throughout even when parts of the story development confused me. In agreement with Dayna, this film is not for those who like to focus on plot. Instead, this film should be viewed as a piece of art that provokes feelings in its viewers. (KIZJ: 4/5)