In director and writer Julia Hart's new film Fast Color, Gugu Mbatha-Raw stars as a lost young woman in search of safety and identity. But what if the place she always runs away from is her last chance at safety? (SYJ: 4.5/5)
Review written by FF2 Media Intern Sophia Y. Jin
The film jumpstarts with panic and fear as "Ruth" (Gugu Mbatha-Raw) runs away from the authorities. During her panicked run she stops by a motel, paying for a room as well as an unusually high price for water, which is in short supply. She cleans herself up before a foreboding look befalls her face. Ruth immediately calls the woman at the front desk and tells her to hide herself and her daughter under the table. She then places all hanging objects flat on the floor, then ties herself onto to the bed. She begins having a seizure, which leads to a horrific earthquake.
Seeing authorities driving up to the wrecked motel, Ruth is once again on the run. She stops at a diner, and meets a curious stranger, "Bill" (Christopher Denham), who buys her a cup of coffee, and describes her as having a much more interesting life than him and his wife. On her way out, she notices a policeman eyeing up her car. Just in time to avoid suspicion, Bill acts as her husband and calls her to his car. Ruth abandons her car and begins a car journey with Bill; Ruth begins to trust this man who seems nice and safe, but soon the conversation takes a sour turn. She finds out that he is with a group of researchers trying to catch her in order to perform medical and scientific experiments. Realizing that she is in danger, Ruth shoots the man and takes off in the middle of nowhere. Everywhere is a desert, and there is no water in sight.
Eventually Ruth finds her way back to her childhood home, surrounded by abandoned land. Ruth and her mother "Bo" (Lorraine Toussainte) awkwardly greet each other, with an obvious tension in the air. Knowing full well the dangers of Ruth's seizures, Bo tells her daughter to stay in the barn next to their house. Bo has lived in the house for all her life, and is now bringing up her granddaughter "Lila" (Saniyya Sidney). Lila grew up without knowing her mother. Meeting Lila naturally made Ruth feel guilt for not being a fit mother. From sheer desperation, Ruth turns to Bo for help in practicing and controlling her powers; we learn that the power to break objects apart into particles and to join them back together again runs in the women of their family.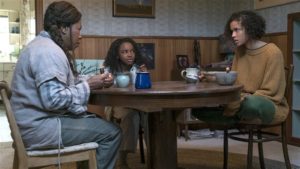 Slowly, Ruth becomes more comfortable at home. She notices how Lila is a very obedient and respectful child, who is both smart and resourceful. Despite her obedience, however, she reveals to Ruth that she's been trying to fix the truck that has been broken outside of their house in order to leave home. Lila wants to experience the world and not be cooped up by an overly protective parental figure.
During Ruth's stay at home, she practices her powers to take apart objects and put them back together, but she thinks it is to no avail. Bo's sheriff friend "Ellis" (David Strathairn) comes by and warns them about nearby cops searching for Ruth. She then runs away again. Along her escape, she realizes where her powers lie.
Director and co-writer of Fast Color, Julia Hart, brings an important issue to light: the lack of water. On top of that, she also looks into the depth of soul searching. Fast Color visualizes issues of today in a more magical way, for example, there is a lack of water in many places, and water resources are diminishing and becoming less readily available. This could help spread awareness about our Earth's current climate problems. Julia Hart also brings to the surface the idea that sometimes facing your fears is more effective than running away from them.
The visual effects really helped the film in creating an impact. It was well done and effective, and made the experience of seeing the film more immersive as the effects were complete and showed how the characters with superhero powers saw the world. The combination of a strong cast and a unique story, this is a powerful and thoughtful film. It also boasted a strong cast.
© Sophia Y. Jin (4/19/19) FF2 Media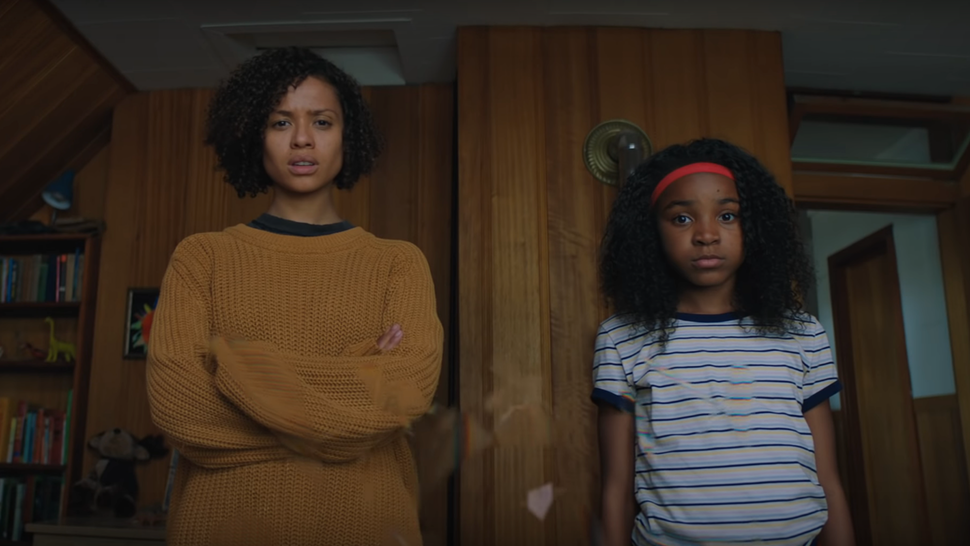 Photos: LD Entertainment
Does Fast Color pass the Bechdel-Wallace test?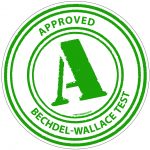 Yes! Whenever "Ruth" (Gugu Mbatha-Raw) and her mother "Bo" (Lorraine Toussainte) talk about their powers.
Coach Katusha's Comments:
Fast Color successfully brings attention to the true value of water as our most important source for life. The casting process was an amazing feat for women in film as it not only starred women of color, but the roles they played were female superheros. During Julia Hart's Q & A, she talked about the casting process being race blind—she cast the actor that best suited the role, and she had no race in mind when writing. The VFX is beautifully done–there is a scene where a cup is shattered into millions of particles, there is also a scene where a lit cigarette is broken apart into color particles that fly around and wirl back into the smoker's hand. For anyone who is remotely interested in VFX, this film will definitely be rewarding.