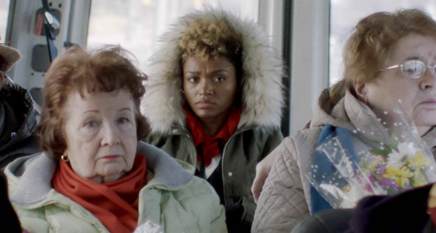 Give Me Liberty (directed by Kirill Mikhanovsky and written by Kirill Mikhanovsky and Alice Austen) is a story of beautiful human interaction and the comical mishaps surrounding medical driver Vic (played by non-professional actor Chris Galust) and his journey to get riders to where they need to go. (DLH: 4/5)
Review by FF2 Associate Dayna Hagewood
Give Me Liberty starts off slow, with an unnamed bedridden man speaking about the doctors telling him he would never walk again. Regardless of this situation, he tells Vic that he loves life and is thankful for every moment. It is this character's narration that bookends the film with wisdom and heartfelt commentary. Everything else about Give Me Liberty, however, is slapped together feverishly in a delightful mess that is as hilarious as it is real.
Shortly after the calmness of the first scene, we begin to piece together a narrative about the main character Vic, who drives people with disabilities to where they need to go. Vic seems to experience one comical issue after another which provides the basis for much of Give Me Liberty.
Set in Milwaukee during the winter in a neighborhood that is breaking out in protests, Vic desperately attempts to shuttle passengers to and from various locations, all while being harassed by his boss for consistently being late.
After a group of elderly Russians in Vic's building beg him for a ride to a friend's funeral, Vic hesitantly agrees to bring them along on his route to pick up his usual riders. One of these riders is Tracy, a young woman with ALS (played by Lolo Spencer), who is both snippy and heartfelt.
Vic experiences one problem after another on his route including his grandfather setting a chicken on fire, a strange character named Dima (who claims he is the deceased woman's nephew) starting trouble, and hitting a parked vehicle in his desperate attempt to drop off Tracy on time at her appointment.
This chaos is deliciously funny, often difficult to watch, and surprising at every turn. I hardly noticed that the driving dilemmas took up nearly three-fourths of the film. Even still, the most remarkable part about Give Me Liberty is that this fast-paced nonsense gives way to a much deeper takeaway.
At its heart, Give Me Liberty is a film about genuine interactions between characters and the head-spinning quality of life. To be frank, Vic's life is a perfect train wreck, but he keeps rolling with the punches and giving himself to those that depend on him regardless of his own desires. In many ways, Vic is hardly the center of the film. It is the people that he drives around that take the main stage.
Comical and insightful, insanely fast-paced and heartfelt, it is almost as if the plot of Give Me Liberty doesn't matter. The characters are the true diamonds of the film and their antics and dialogue keep everything moving. This colorful cast keeps you on your toes and waiting in anticipation for the next ridiculous thing. With an ending that packs a harder punch than you might expect for such a hilarious film, Give Me Liberty is certainly a must-see.
© Dayna Hagewood (10/11/2019) FF2 Media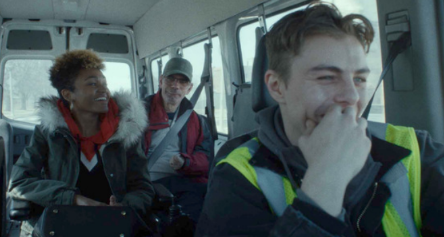 Featured Photo: Vic and Tracy manually playing a record.
Top Photo: Tracy and two of the older Russian women on their way to the funeral.
Bottom Photo: Vic, Steve, and Tracy in the van.
Photo Credits: IMDB USA
Does Give Me Liberty pass the Bechdel-Wallace test?
No. There are few main female characters in the film. While there are some scenes that involve groups of people, we can't really discern specifics of the conversations.