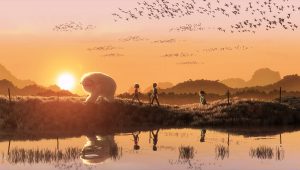 In director and writer Jill Culton's and co-director Todd Wilderman's new film Abominable, the legendary Yeti becomes the audience's favorite creature. Using music and imagination, Abominable is a beautiful adventure. (SYJ: ⅘)
Review written by FF2Media Intern Sophia Y. Jin
Waking in confusion, a beast, « Everest » (Joseph Izzo), frantically runs around some kind of facility. As panic spreads throughout the building, scientists, such as « Dr Zara » (Sarah Paulson) and security guards try to corner this creature to catch and contain him once more. In a blur, he vanishes from their sight and runs through the Chinese city of Shanghai. He finds an advertisement of Mount Everest, and uses that as a guide. When he finally feels safe, he rests on the roof of an apartment building, staring at the picture of his home as he falls asleep.
A young girl from China, « Yi » (Chloe Bennet), wakes up during her summer break and dashes out at the break of day. This makes her grandmother (Tsai Chin) and mother (Michelle Wong) both worry about how little time she spends at home. It is clear that there is tension in this household. Yin hurries to run errands for other people in order to get paid. When she returns home late, she makes her way up to the roof of her building. There, she has a secret hideout, where she hides all her earnings and a map with all her father's postcards of the places they wanted to go together. In her hideout, she keeps her violin hidden. At night, when she is alone on the roof, she plays beautiful melodies.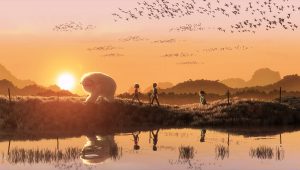 On one night, when Everest is asleep, Yi finds him lying near her hideout. Instead of freaking out and running away, Yi sees that Everest is injured on his arm. She helps puts a bandage on his injury and figures out that he wants to go home, to the Himalayas. Hence, the journey that no one could ever forget, begins. Yi and her friends "Jin" (Tenzing Norgay Trainer) and « Peng » (Albert Tsai) set out to help Everest get to his home without being caught by the scientists and security guards, and "Burnish" (Eddie Izzard), the man who caught Everest to begin with. Burnish is a greedy and conceited man, who loves all things rare. However, once he takes time out to understand Everest as a being rather than a monster, Burnish realises that Everest shouldn't be held captive, but should be free with his own family.
Director Jill Culton's new animation Abominable portrays the mythical « Abominable Snowman » or « Yeti » in the most beautiful way. The Yeti is a kind creature, who is calm and loving. Culton's infusion of monster and beauty enforces the idea of not judging a book by its cover; just because something is big and scary looking, does not mean that it is in fact so. The power of music, whether it is from the solo violin or from the Yeti, or better yet, joined together, creates a dynamic duo that brings tears to the eyes of the audience. This is a beautiful representation of the mystical being.
© Sophia Y. Jin (10/03/2019) FF2 Media
Photo Credits: IMDb
Does Abominable pass the Bechdel-Wallace Test?
Yes! The characters talk about music and "Everest".
Commentary by Review Coach Giorgi Plys-Garzotto
This movie gave me some serious Lilo and Stitch vibes! It's a movie based on and paying homage to a vibrant culture and its myths, with an adorable furry character with fun magical powers. The Yeti in this movie is less like cute-freaky Stitch and more like a giant golden retriever with ice magic, but you get my drift. It's also kind of like Free Willy, in that it centers on a kid who befriends a creature in captivity and helps that creature find its way home. With a mix of these classic kid's movies and the gorgeous mountains of the Himalayas serving as the backdrop, this film is definitely something I would take my younger relatives to see over the holidays. 
One other thing I wanted to speak to about this film is the authentic representation of Asian actors in the cast! Shows like Bojack Horseman often feature white voice actors like Alison Brie playing Asian actors like Diane, but the cast for Abominable has much the same diversity as its cast. While we might not think that kids could pick up on that kind of thing, I have a hunch they do. It's also important for films about certain cultures to be made by the people who are part of that culture, since those people can then advocate for the portrayal of those cultures to be sensitive and accurate.