Twelve-year-old Otis (Noah Jupe) is becoming a Hollywood star. His dad is a substance-abusing ex-clown with a mean temper. Twenty-two-year-old Otis (Lucas Hedges) has landed himself in rehab after years of excessive alcoholism and anger management issues. This is the biopic of Shia LaBeouf, the kid star of early 2000's Even Stevens and Transformers fame. Written by LaBeouf and directed by Alma Har'el, Honey Boy tracks the tragic narrative of LaBeouf's childhood through the eyes of Otis twelve, twenty-two, and James Lort, Otis' father played by LaBeouf himself. The story is heartbreakingly raw, cinematically beautiful, and surprisingly vulnerable with a magnificent performance by all actors. (MTP: 4.5/5)
Review by FF2 Intern Maiya Pascouche
Shia LaBeouf has had a tumultuous career ever since his many drunk arrests. You might remember his "I Am Not Famous Anymore" bag incident on the red carpet or his compilation video of every film he has ever been in. However, in the last few years, he has attempted to make amends via public apologies and now, through the cinematic debut of Honey Boy. 
With Alma Har'el (Israeli music video and film director) at the helm, Honey Boy emerges as a visual masterpiece that captures the gorgeous Southern Californian desert in the warm glow of childhood nights by the pool paired with the grungy, dirty neon bathroom of a strip club in Downtown LA. One of the most striking pairs of shots kicks off the film when young Otis is flung backwards by the impact of a pie to the face in a sitcom and a few moments later, twenty-two- year-old Otis is jolted backwards in a film that appears to mimic Transformers. These two shots, in just the first few moments of Honey Boy, show the evolution of Otis (past and present) as he attempts to navigate the Hollywood landscape.
Because of this collaboration, LaBeouf's fierce writing style is softened by Har'el's light, ever so slightly feminine touch to the tender moments of the film. These shots contain hints of pastel pinks and purples (most often when the few women characters are on screen). This contrast contributes to the truly bittersweet depiction of childhood trauma that anchors Honey Boy.
Acting as one's own parent is a unique challenge that has rarely been done in biopics, and is even more difficult to pull off when the principal writer is a main player in the film. As an actor, you must connect yourself to your character in order to empathize with them. This can be quite difficult if you happen to be playing, say, a serial killer or an abusive parent. It must be even more challenging when you attempt to empathize with your own abusive parent, inhabit their likeness, and try to give a compelling and unbiased performance. Thus, I was overjoyed to see LaBeouf's superb work in Honey Boy and the incredible strength it took to show an honest portrayal.
 I never felt that LaBeouf's own feelings about his father were seeping in through his acting. Rather, those moments of judgement were left to Otis and other characters to clue the audience into what LaBeouf's childhood was really like. Because of this, I found that the writing of the film was surprisingly clever and rather nuanced when it came to character building and the tracking of relationships throughout the narrative. The bouncing back and forth between young Otis's life and adult Otis's time in rehab was always clear because of the distinction between the actors. 
However, the inclusion of twenty-two-year-old Otis's perspective was the least thrilling arc, and I honestly would not have minded if it wasn't included at all. Cutting these sections would have allowed for more backstory centered around the father's life or a deeper exploration of relationships with the mother, who is almost shockingly absent in the film. Not seeing Otis's mother (Natasha Lyonne) once made me question LaBeouf's relationship with his own mother and why he did not consider her a screen-worthy character. That being said, these are only minor complaints and tweaks to an otherwise wonderful film. Overall, Honey Boy is a stunning biopic and contains gorgeous performances by all actors involved. Bravo.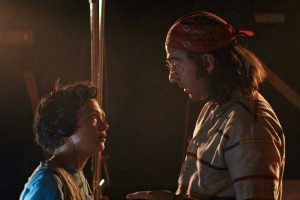 Read our FF2 Media interview with director Alma Har'el here.
Review by Maiya Pascouche© 11/14/19.