From first-time director Swati Bhise, The Warrior Queen of Jhansi is a historical period drama following the matriarch who fought the British East India Company and British troops in the mid-1800s. Written and directed by women and following a historical female protagonist with whom common audiences might not be familiar, Swati Bhise's directorial debut tells a relevant woman's story for our times. (BKP: 3.5/5)
Review by Vice President and Managing Editor Brigid K. Presecky
Though Bhise's directorial debut events took place more than 150 years ago, the unlikely rise of Rani Lakshmibai (Devika Bhise, doing double duty as star and screenwriter) is a fitting narrative for today. Not unlike modern retellings of Queen Elizabeth II's life in feature films and streaming series, Bhise turns our attention to the city of Jhansi, where the East India Company has started a years-long mutiny. 
The 24-year-old mother, wife, and "Rani" ("Queen" in English) is forced to be a leader at the urging of her ill husband and the increasingly oppressive presence of British troops. Facing the loss of her husband and being forced out of her home, she faces insurmountable obstacles explained with the help of co-writer Olivia Emdan. 
For those unfamiliar with Indian history and hierarchy, Bhise does her best to provide an exposition of the Queen's plight. "We grew up with her story," Bhise said. "I think every young child in India grows up listening to this real-life tale through the oral tradition as well as school textbooks. There are statues of her all over India." Exposition is largely provided through third-person narration and conversations among British government officials. But the plot can get lost in action at times, losing the thread of Lakshmibai's story in the repetitive action sequences that become increasingly violent. This is especially true for the viewer with no context of her story, but The Warrior Queen of Jhansi hopes to change that.
The Warrior Queen of Jhansi is a valiant effort to tell the story of a powerful woman whose emotional investment in her city is a proven strength. Bhise's aim to do justice to the queen's incredible story is obvious and admirable. As Lakshmibai trains her all-female cavalry in sword-fighting in an early scene, a man asks if she believes she can really "teach these women to fight like men." She replies with subtle confidence: "No – I will train them to fight better than men." This well-executed feminist message is the best aspect of The Warrior Queen of Jhansi. Still, it does at times feel like a History Channel special about the implications of Indian colonialism striving to be a wartime epic. 
Like the recently-released, The Current War starring Benedict Cumberbatch as Thomas Edison, this biopic will likely appeal most to those with increasing interest in or familiarity with the subject matter. But in a nation where the first statue of a female historical figure will be erected in Central Park in 2020, we could learn from the story Bhise tells to better honor the extraordinary women of our own history. 
© Brigid K. Presecky (11/15/19) FF2 Media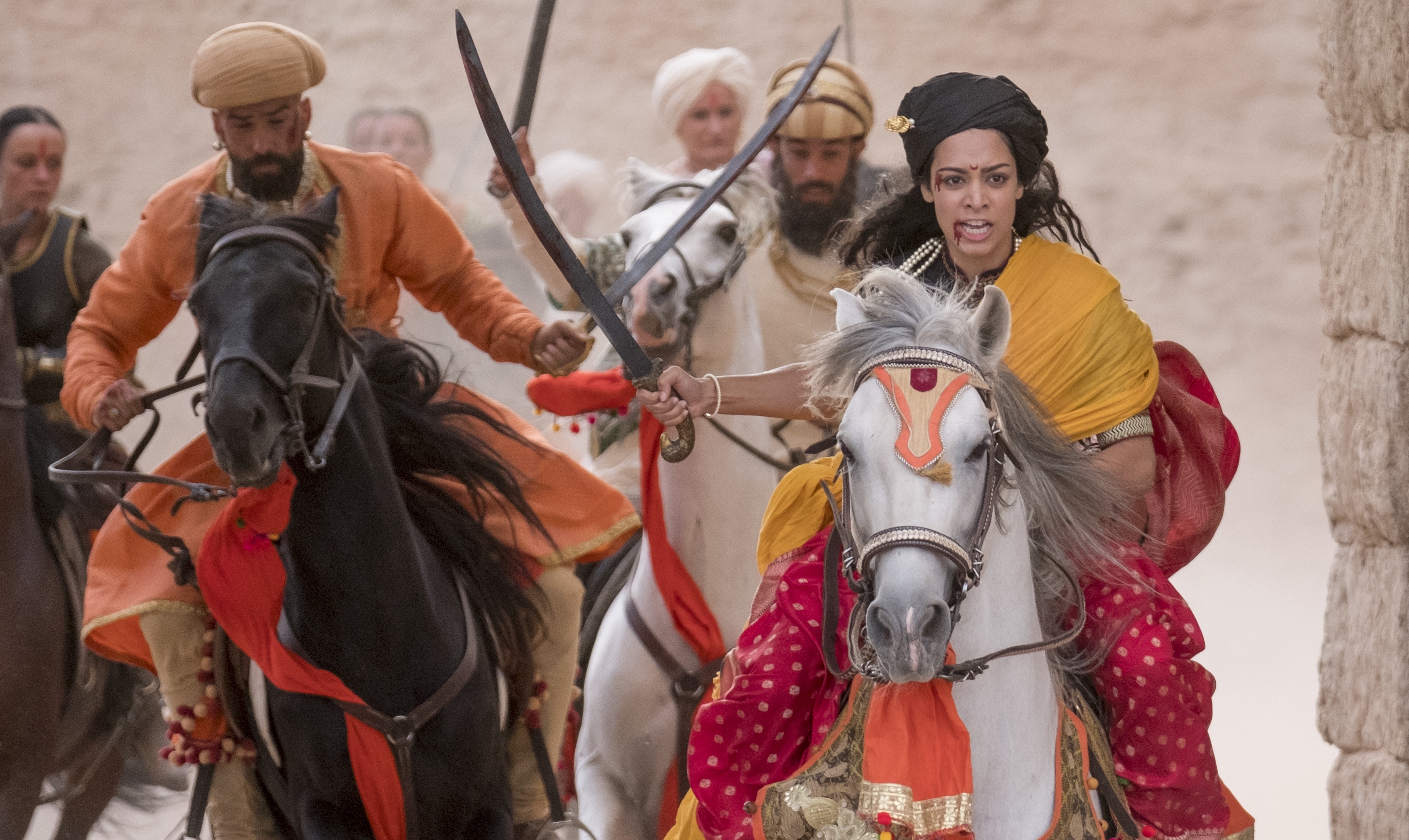 Photos Courtesy of Roadside Attractions (Credit: Nick Wall)
Q: Does The Warrior Queen of Jhansi pass the Bechdel-Wallace test?
Yes! 
Rani Lakshmibai trains her female cavalry and has conversations with other women. However, the British side of the story is unsurprisingly male, featuring Rupert Everett and Ben Lamb's performances.