Written for the screen and directed by Greta Gerwig, Little Women is a poignant retelling of Louisa May Alcott's classic novel, following seven pivotal years in the lives of the March sisters. Opening with the latter half of the novel, the film is told through flashbacks from the perspective of author Jo, portrayed by three-time Academy Award nominee Saoirse Ronan. 
If "Christmas won't be Christmas without any presents," we at least have this one. (5/5)
Review by Vice President and Managing Editor Brigid K. Presecky
Riding in the back of a carriage beside Aunt March, Amy notices a familiar face in the bustling streets of Paris: handsome and grown-up Theodore Laurence. "Laurie!" she screams, thrilled to see her old friend, happy to be hugging a little piece of home. Viewers, too, will feel the same when they re-enter the beloved world of the March sisters, as Gerwig remains loyal to Alcott's source material while enhancing it with copper-toned imagery and brilliant story construction.
Like the two-part novel, the film is sliced into parallel stories: In one, is adult Jo living in New York, trying to turn her writing into a profitable career and the other, set seven years prior, is young Jo living with her family in the Civil-War-set home of Concord, Massachusetts. Using Alcott's real home (now museum), Gerwig grounds her story in authenticity and beauty as she effortlessly flashes the story back and forth between the warm comfort of youth and the painful passage of time.
Saoirse Ronan is perfectly cast as the feisty central character in a role drastically opposite her last Gerwig-led film, Lady Bird. Rather, Jo is as she is in the novel: a restless dreamer with a terrible temper and endless love for her family: sisters Meg (Emma Watson), Beth (Eliza Scanlon) and Amy (Florence Pugh) as well as hardworking matriarch, Marmee (Laura Dern). All bring their own personalities to the characters and are given more than enough to do so in Gerwig's script, unlike the 1994 version by Robin Swicord starring Winona Ryder (superb in its own way, but Jo-centric nonetheless). Watson's affability excuses Meg's materialistic tendencies, Scanlon's Beth stays true to the novel with her timid existence and Pugh's Amy finally gives likable spunk to an otherwise disliked character. 
And in a role perfectly suited for no one else but maybe Christian Bale, himself, Theodore "Laurie" Laurence is once again brought to life by Academy Award nominee and Lady Bird alum, Timothee Chalamet. Together again with Ronan, the two understand the dynamic relationship between opinionated Jo and her love-struck neighbor Laurie. For 151 years, fans of Alcott's story have rooted for the two to be together at the conclusion of the novel and for 151 years, they have been disappointed. But simply seeing these characters, these talents, act together for the better part of two hours is anything but disappointing. Gerwig generously gives meta winks to the audience, understanding their frustration of Jo and Laurie's will-they-won't-they always ending in: they won't. Chalamet and Ronan will team up again in Wes Anderson's The French Dispatch (2020), and hopefully will continue to work together again and again for viewers to experience whatever it is they have together. And they have so much.
It's Ronan and Gerwig's Oscars to lose, and for a film that is rated PG and generating awards buzz, the rare feat makes it all the more admirable. On a personal note, Little Women is my favorite book. What I didn't cover in this review is simply because it lives in my heart. It is not always that a movie lives up to your expectations, doing justice to the novel its based on. Somehow, Gerwig understands what Alcott was trying to say and in some way, brings to life the exact visions in my head. Although it wasn't Gerwig, alone, who created this world: it was the production designers, costume designers, makeup artists, editors, music supervisors, etc. etc., but it takes a brave person to take this material – one so close to people's hearts – and make it everything you wish it to be.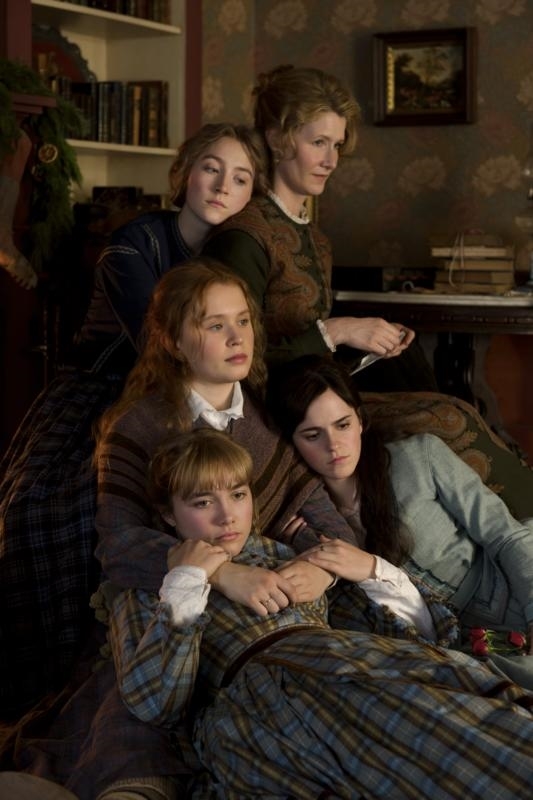 Saoirse Ronan's character utters the words, "No one will forget Jo March." And in the 151 years that have passed since the novel's publication, no one ever will. 
Little Women opens nationwide on Christmas Day.
© Brigid K. Presecky (11/25/19) FF2 Media
Photos courtesy of Sony Pictures, Columbia Pictures and Regency
Q: Does Little Women pass the Bechdel-Wallace test?
Yes. It certainly does.
And while the novel is about strong women, it is just as much about the woman who raised them. Laura Dern breathes new life into the role of "Marmee," bringing joy and humility to the foundation on which the March sisters are built.