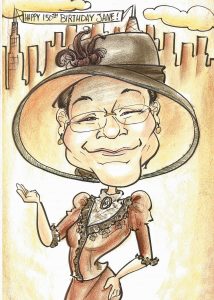 Click HERE for eVite as a printable pdf.
Monday September 6th (Labor Day)
is Jane Addams' 150th Birthday!
Please join us in Jane Addams Park (on the Chicago Lakefront)
for celebratory cake & good fellowship.
Date: Sept 6, 2010
Time: Noon
Location: Jane Addams Park
550 East Grand Ave
(west of Navy Pier/south of Oak Street Beach)
Cake will be provided FREE,
but please bring your own drinks.
Questions?  Contact Jan Lisa Huttner at 312.771.6949 (cell)
PS: Please forgive the late notification. 
We waited to ensure pleasant weather conditions
before sending our eVite
**********
Click HERE for Chicago Park District info.
Click HERE to read my award-winning presentation
"The History of Jane Addams Day"