Written and directed by Ally Walker, Sex, Death and Bowling follows a young boy as he struggles with his views on the afterlife and what it all means for his terminally ill father. When his estranged uncle returns home, the family is able to mend some of their broken ties when a bowling tournament puts them all back on the same team. (JEP: 3/5)
Review by Contributing Editor Jessica E. Perry
A highly inquisitive young boy, "Eli McAllister" (Joshua Rush) is questioning his religion, and in turn, his views on the afterlife and reincarnation. Will God forgive you for certain acts? Will everyone go to heaven? We soon learn that Eli's questioning is not for his own benefit, but instead, for his father's. Eli's father "Rick McAllister" (Bailey Chase) is terminally ill. His cancer has progressed and he does not have much time left. But little Eli is concerned for his father once he passes. As a soldier in the Iraq war, Rick has seen and done things that Eli is concerned will keep him out of heaven.
Unlike Eli, his mother "Glenn McAllister" (Selma Blair) is processing his father's illness in a different way. Sleeping by his bedside, she yearns to have all the time with Rick now that she can. But this desire has caused her to anger quickly at anyone who treats Rick as if he is ill. Rick's caregiver, "Ana" (Drea de Matteo) suffers the most at the hands of Glenn's grief, and any time Ana attempts to give Rick the morphine he needs, Glenn lashes out at her.
"Sean McAllister" (Adrian Grenier) has been away for years. As a highly successful fashion designer, Sean lives happily in London, but returns home to be with his brother Rick. However, tensions run high between Sean and his father "Dick McAllister" (Daniel Hugh Kelly). But their differences are put aside when Sean agrees to fill in for an injured player on his father's bowling team.
Eli, Sean, and Dick set out to win the bowling championship—The Fiesta Cup—for Rick, who used to be an active member of the team but cannot participate this year because of his cancer. With their united goal of brining the title home for Rick, the men work through their differences, remembering just how important family truly is.
Sex, Death and Bowling written and directed by Ally Walker is at its core a family dramatic comedy. But riddled student film-esque editing choices like misplaced crossfades and dissolves, and unnecessary flashback scenes used as a crutch for storytelling, Sex, Death and Bowling loses some of its heart. All and all an enjoyable film about the importance of family, but certainly nothing you haven't seen done better before.
© Jessica E. Perry FF2 Media (11/1/15)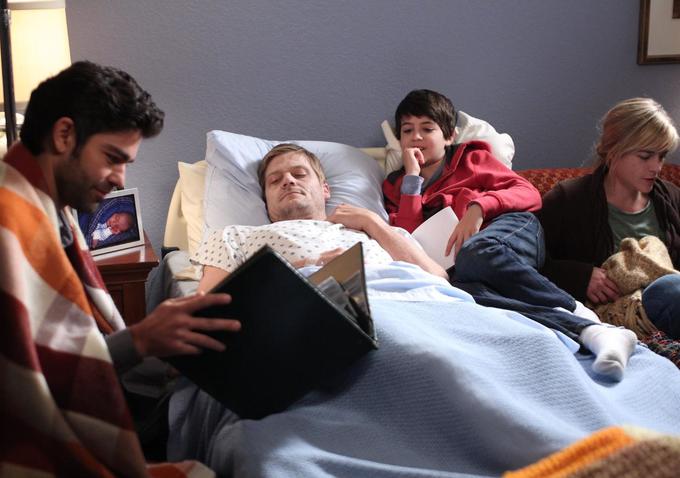 Top Photo: Eli gives Sean a pep talk telling him he needs to bowl a strike for the team to win.
Bottom Photo: The family spends quality time together with Rick.
Photo Credits: Raymond Liu
Q: Does Sex, Death, and Bowling pass the Bechdel Test?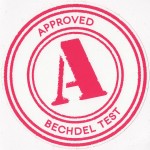 Not really. The film's primary focus is on mending the relationship between the men in the family. So all of the discussions that the women have focus on familial issues, such as Rick's illness or Dick's reluctance to see his son in that state.