Surpassing any and all expectations, Scouts Guide to the Zombie Apocalypse is a clever, witty and fun adventure, making a complete mockery of the "zombie" genre and the cliches of today's blockbuster films. Reminiscent of old-school adventures like The Goonies or Honey, I Shrunk the Kids, the R-rated Scouts Guide is one of the funniest, most entertaining movies of the year. (BKP: 4.5/5)
Review by Associate Editor Brigid K. Presecky
Don't let the title scare you off …
"Ben" (Tye Sheridan), "Carter" (Logan Miller) and "Augie" (Joey Morgan) have been best friends – and boy scouts – from the time they were little … but being a scout is the farthest thing from "cool" you can get when it comes to high school popularity.
While Ben and Carter want to stay in scouts for the sake of Augie (who's holding onto his father's memory) they are torn between loyalty to their best friend and wanting to grow up. But the three are forced into an all-night adventure when their vacant town becomes a haven for the walking dead and stripper "Denise" (Sarah Dumont) is their only ally.
And the uproarious plot takes off with incredible force: what would happen if boy scouts were left to face the zombie apocalypse? If you take this movie – marketed towards teenage boys – seriously, you are missing the entire point (Here's looking at you, Rotten Tomatoes).
Yes, this over-the-top apocalypse parody uses every stereotype, cliche and film trope in the book because that is exactly what it is … a parody, and a clever one at that.
If you take a closer look and strip away all the monster and the dirty teenage-boy jokes that are too "meta" for some viewers understand, the writers (Emi Mochizuki, Carrie Evans, Christopher Landon and Lona Williams) actually construct an entertaining film that hits every necessary plot point – the hook, rising action, climax, falling action, the heroes, their weaknesses, the balance in tone from funny to serious (Ok, maybe I have read one too many screenwriting books).
The most impressive aspect of Scouts Guide to the Zombie Apocalypse is the nonstop energy. Whether you are keeling over laughing at Cloris Leachman as Carter's grouchy next-door neighbor or averting your eyes from the gruesome visual effects, there is continuous action without one dull sequence to spare.
The three main leads, particularly Logan Miller, have a such a fun dynamic and natural comedic timing that you wish they were your best friends. Add David Koechner (Anchorman, The Office) to anything and it will automatically be funnier than the writer ever intended.
Walking into a theater expecting the same thing over and over (explosions, zombies, gunfire, damsels in distress), it is beyond refreshing when you see something done a little differently. Sure, there were strippers and the typical pretty girl who needed to be saved from the flesh-eating zombies, but it was all part of the mockery. With reboots and revivals popping up left and right, Director Christopher Landon gives this Halloween adventure flick an old-school, yet original, feel that this generation so desperately craves.
© Brigid K. Presecky FF2 Media (10/30/15)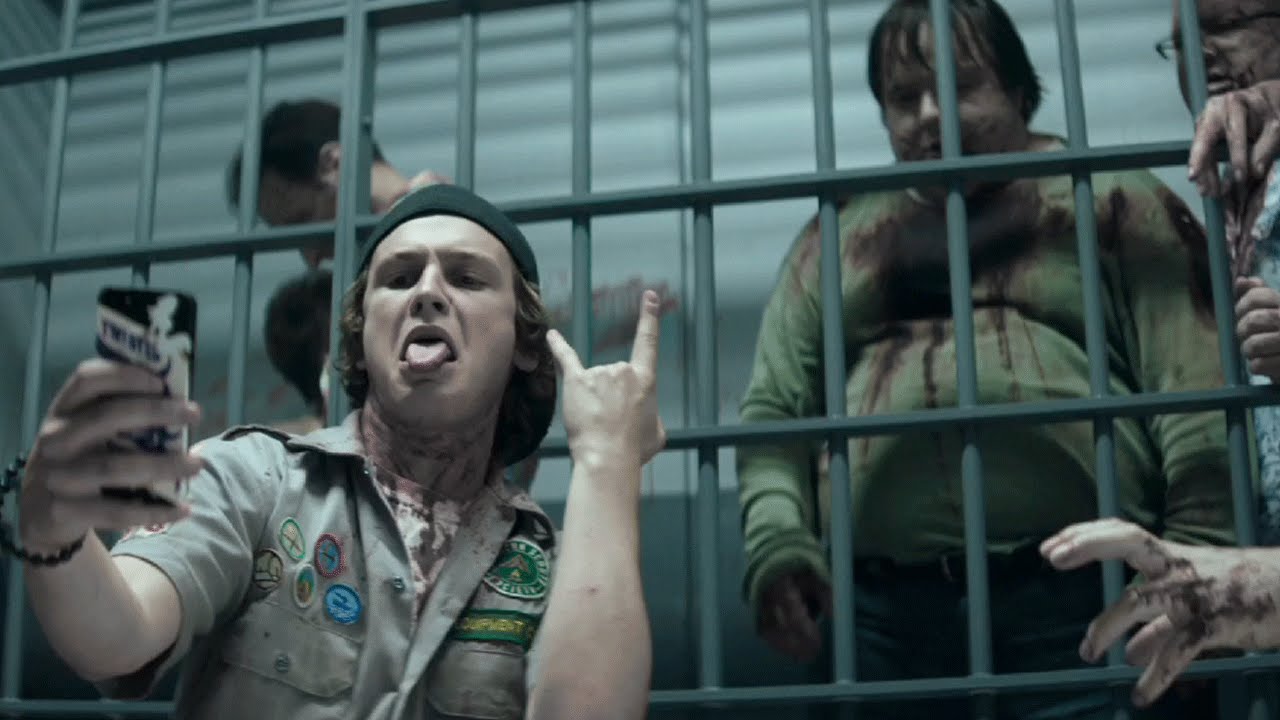 Middle Photo: "Ben" (Tye Sheridan), "Carter" (Logan Miller), "Augie" (Joey Morgan) and "Denise" (Sarah Dumont) try to escape the zombies
Bottom Photo: "Carter" (Logan Miller) takes a selfie with the zombies
Photo Credits: Paramount Pictures
Q: Does Scouts Guide to the Zombie Apocalypse pass the Bechdel Test?
Unfortunately, no.
Had this film passed the Bechdel Test, it would have gotten that 5/5 perfect score.