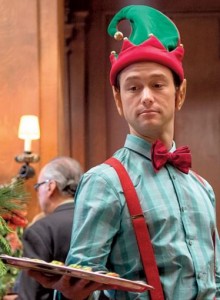 The Night Before tells the story of three best friends who vow to spend one last Christmas together. The film is exactly what you expect it to be, neither good nor bad. But this buddy comedy, led by an always-lovable Joseph Gordon-Levitt, has a sweet message hidden beneath its slapstick, drugged out, holiday adventure. (BKP: 4/5)
Review by Associate Editor Brigid K. Presecky
When teenage "Ethan's" (Joseph Gordon-Levitt) parents died in a car accident, his two best friends "Isaac" (Seth Rogen) and "Chris" (Anthony Mackie) made sure he would never spend Christmas alone .. they were his new family. That year and every year after, the three best friends honored their tradition of singing at karaoke bars, eating Chinese food and trying to find the best party in town.
But like most things in life, it all changes. While Chris is immersed in his burgeoning football career and Isaac is starting a family, poor Ethan is left alone with his guitar and thoughts about his ex-girlfriend, "Diana" (Lizzy Caplan). The one thing that lifts Ethan's holiday blues? His traditional Christmas Eve with his best friends, only this time, he holds three invitations to the best party in New York City.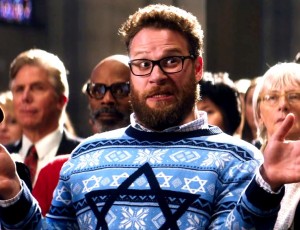 This one-night adventure film is a compilation of random plot lines, from Isaac videotaping himself in a cocaine-fueled haze to Miley Cyrus singing "Wrecking Ball" to half the cast of Freaks and Geeks (thanks to a cameo by James Franco). But when things get a little over-the-top, the script and Gordon-Levitt's acting ability brings it back down to earth. Despite the expected nudity and profanity, the film's tone is actually quite sad.
Seeing the world through Ethan's eyes makes you reflect on your own holiday traditions and how sometimes, every once and a while, you wish the Ghost of Christmas Past could pay you a quick visit. It doesn't have to be a figure from Charles Dickens' imagination; it can be as simple as a dusty old GoldenEye game ready to be played on Nintendo 64.
Thankfully, the writers do not leave you in a emotional rut for very long. The sincerity of the plot and the dynamic of the three main leads make up for any bizarre, kooky plot points that seemed funnier to the actors than to anyone in the audience. Nevertheless, Rogen, Gordon-Levitt and Mackie have a believable chemistry and give a whole new meaning to the social media term "squad goals."
The Night Before is an enjoyable kick-off to the 2015 holiday season. And if anyone is looking for gift ideas for me, just ask Joseph Gordon-Levitt to wear a Christmas sweater and show up on my doorstep wanting to meet my parents and marry me. Hopefully you can get free shipping and handling.
© Brigid K. Presecky FF2 Media (11/21/15)
Top Photo: Joseph Gordon-Levitt as "Ethan"
Middle Photo: Seth Rogen as "Isaac"
Bottom Photo: Joseph Gordon-Levitt as "Ethan" with Seth Rogen as "Isaac" and Anthony Mackie as "Chris"
Bechdel Photo: Mindy Kaling as "Sarah" and Lizzy Caplan as "Diana"
Photo Credits: Columbia Pictures
Q: Does The Night Before pass the Bechdel Test?

Not at all.
Mindy Kaling plays "Sarah," the best friend of "Diana" (Lizzy Caplan) but their conversations are relegated to their respective relationship statuses.