U.S. Customs official "Robert Mazur" (Bryan Cranston) infiltrates the world's largest cartel to expose an international money-laundering scheme. Based on true events, screenwriter Ellen Sue Brown delivers a compelling narrative—although the convoluted plot at times distracts from the action. Nonetheless, The Infiltrator, directed by Brad Furman, is one to watch for fans of the crime drama genre. (JEP: 4/5)
Review by Associate Editor Jessica E. Perry
Florida, 1986. U.S. Customs Services special agent "Robert Mazur" (Bryan Cranston) has just completed yet another successful undercover operation. But wounded on the job, Mazur is offered early retirement. Instead, he decides to take on another case, once again assuming a new identity. Mazur promises his wife "Evelyn Mazur" (Juliet Aubrey) that this is the last time. The last time his work takes him away from Ev and their two young children.
Mazur and his partner "Emir Abreu" (John Leguizamo) have uncovered a huge money-laundering scheme involving the cartel and Colombian drug lord Pablo Escobar. When their original approach to "follow the drugs" fails, Mazur decides instead, to "follow the money." And so, to get in with the big dogs, he must become one.
Robert Mazur assumes the identity of alias "Bob Musell
a" and assimilates himself into the world of international money laundering, becoming a vital player in an extremely dangerous game. He and his "fiancé," fellow undercover agent "Kathy Ertz" (Diane Kruger), infiltrate the world's largest cartel, and together, expose the corrupt workings of the Bank of Credit and Commerce International and the many criminals it takes to run a successful money laundering scheme.
Based on true events, The Infiltrator is an edge of your seat crime drama. But regrettably, female screenwriter Ellen Sue Brown left her female characters—including Kruger's lead role as Kathy Ertz—woefully underdeveloped. Even so, Kruger's performance is undoubtedly high among the list of great performances in the film, including Bryan Cranston, John Leguizamo, Benjamin Bratt as "Roberto Alcaino," and many members of the strong supporting cast.
The film focuses on multiple different parties, ultimately creating quite a confusing second act for the viewer. Unless you're well versed in the ins and outs of money laundering, both the American and international banking processes, and international criminal activity, you're not likely to have a full understanding of what's going on during each new turn that the film takes. But in the end, The Infiltrator gets you back on board, with an emotionally compelling takedown sequence and strong interpersonal character relationships.
© Jessica E. Perry FF2 Media (7/15/16)
Top Photo: "Robert Mazur" (Bryan Cranston) listens in on illegal proceedings.
Middle Photo: Mazur and his fiancé "Kathy Ertz" (Diane Kruger) work together undercover.
Bottom Photo: Mazur and his partner "Emir Abreu" (John Leguizamo) infiltrate the cartel.
Photo Credits: Nick Wall
Q: Does The Infiltrator pass the Bechdel-Wallace Test?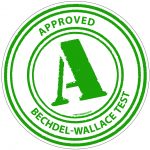 Just barely…
All of the conversations between the "wives" revolve around the male characters in the film. But "Kathy Ertz" (Diane Kruger) does have an extremely brief conversation with Mazur's spitfire "Aunt Vicky" (Olympia Dukakis) about where the two ladies will go shopping that afternoon.