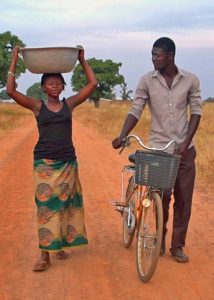 Iddrisu Awinzor is happily living his life as a medical student in Kumasi (Ghana) when a call from his sister Damata changes everything. There was a motorcycle accident. Their father is dead. Iddrisu must return to the village immediately.
Nakom (co-directed by Kelly Daniela Norris and T.W. Pittman) is an intense, quiet film that contrasts urban life versus rural life. Iddrisu has choices that would have been impossible in prior generations. Now that he has made the leap to Kumasi, Iddrisu is eager to take the next step to Accra (Ghana's capital), and maybe even to America one day. But what immediate effect would that have on his family, and what might be the long term affect on the village of Nakom?
Nakom, with its micro-budget and all-Ghanaian cast, has received kudos at film festivals all around the world and was recently named one of the five nominees for the prestigious John Cassavetes Award at the 2017 Spirit Awards. Highly Recommended… especially on a Big Screen! (JLH: 5/5)
Review by FF2 Editor-in-Chief Jan Lisa Huttner
Nakom begins in the boom and buzz of Kumasi, one of Ghana's largest cities. Cars, buses, and motorcycles fight for space on the crowded streets. People everywhere are busily engaged in getting ahead, and a haze of pollution hovers over the already congested and obviously growing metropolis.
The camera soon zeros in on a very tall and extremely handsome young man named "Iddrisu Awinzor" (Jacob Ayanaba). Iddrisu is a medical student with a beautiful girlfriend and a golden future. She teases him in bed, calling him her "village boy," but they are clearly leading a very modern life.
And then Iddrisu's cellphone begins to buzz. His sister "Damata" (Grace Ayariga)  is calling with the worst possible news. Their father has died and Iddrisu must return to their village — Nakom — immediately. So he packs a suitcase and boards a bus and leaves the city behind.
Of course, Iddrisu's stated intention is to return to Kumasi the following week. He is very ambitious, and he has set his sites not just on Accra (the capital of Ghana) but on the golden land of America. However, the situation in Nakom is way more complicated than he realized. His father was in debt, the family's future is in peril, and Iddrisu is now "the master" (a title he hates but knows he cannot avoid). 
Full Disclosure: I saw Nakom a year ago as part of the New Directors/New Films series at the Film Society of Lincoln Center. I was completely enthralled by its vivid depiction of village life (most especially the different trajectories of men and women). However bright and studious Iddrisu might be, it is clear that Damata is just as studious, probably brighter, and certainly more perceptive. But Damata will never have his opportunites, and she must clearly fight with herself every day to reconcile herself to the facts of her life.
"Sometimes," Damata says to Iddrisu, "you act like you decided your own birth and crawled into the world without help." I can't think of a better one line summation of the phenomenon we now call "Male Privilege."
One year later, Nakom plays even better than before. After the Brexit vote in the UK in June 2016 and the presidential election in the USA in November 2016, it is clear that the gap between urban life and rural life is just as profound in the "First World" as it is in the "Third World." Therefore this peek into daily life in the Ghanaian village of Nakom is a fully realized and masterful microcosm.
Kudos to filmmakers Kelly Daniela Norris and T.W. Pittman. Norris and Pittman co-directed. Pittman also co-wrote the screenplay with Isaac Adakudugu.
CAUTION: Please make every effort to see Nakom on the biggest possible screen. On a small screen, you will certainly get to know all the members of the Awinzor family, but Nakom itself will shrink. It requires a big screen to fully appreciate Nakom as "a character" in itself.
© Jan Lisa Huttner (3/4/17) FF2 Media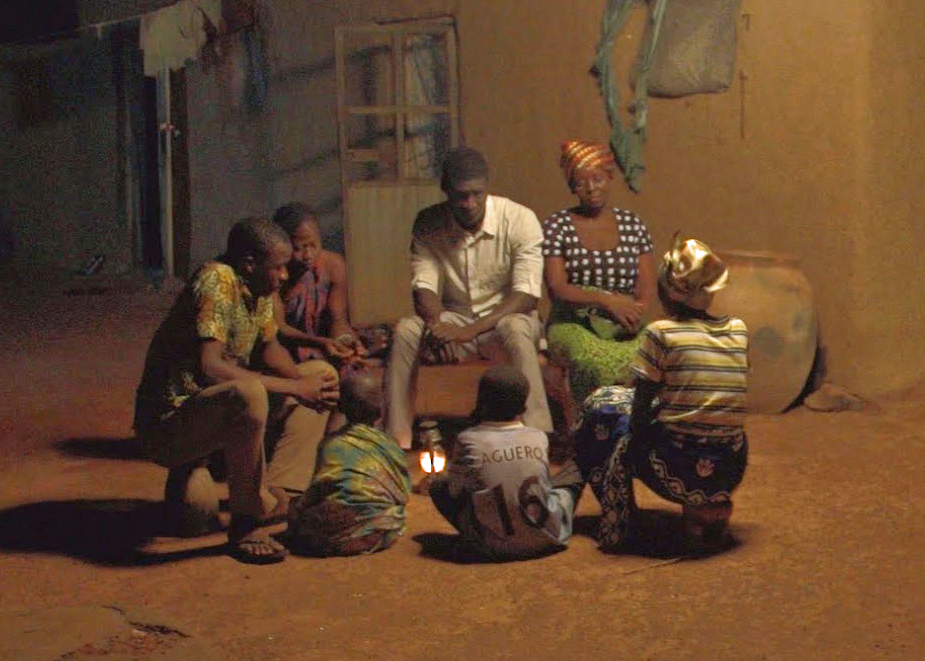 Top Photo: Damata (Grace Ayariga) fills Iddrisu (Jacob Ayanaba) in on the scene in Nakom and things that have happened since he left for Kumasi.
Middle Photo: Iddrisu begins a relationship with "Comfort" (Felicia Atampuri) who is the daughter of the Chief of Nakom.
Botttom Photo: The Awinzor family faces its future. "Senior Mother" (Justina Kulidu) has five children: Iddrisu, Damata and "Kamal" (Abdul Aziz), plus a younger son and a daughter who appear to be twins. She is also caring for "Fatima" (Esther Issaka), a teenage orphan who is the granddaughter of her late husband's brother.
Q1: Does Nakom pass the Bechdel-Wallace Test?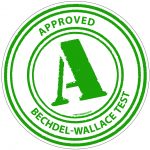 Just barely.
The central figure is definitely Iddrisu, and most scenes revolve around him, but Damata also has a relationship with their father's second wife (a woman slightly older than she is who has become something of a sister). But this woman does not get a name.
The mother of Iddrisu, Damata, and their younger siblings is called "Senior Mother," and the younger woman (played by Shetu Musah) is simply called "Junior Mother." My guess is that Damata knows her name and uses her name, but it is a name Iddrisu has probably never heard and would definitely never use…
Q2: Where is Ghana?
On the west coast of Africa, between the Ivory Coast and Nigeria.